Nowadays, products in the door industry are highly advanced. Modern technology has settled in for good in window and door joinery. Increasingly more modern and high class materials are used in production. All this serves to provide the user with the highest possible comfort, the best insulation parameters, and eye-catching aesthetics.
However, there are cases where standard solutions, even the most modern ones, turn out to be insufficient. For example, public buildings are getting more and more demanding. They must meet many strict requirements and allow everyone to move freely, not excluding people with disabilities or reduced mobility. Therefore, it is necessary to use solutions such as ramps, lifts, and automation.
Doors in such buildings must be made in accordance with applicable regulations, standards, and investor's expectations. In many cases, applying a standard low threshold no longer meets the demands. Despite its low construction, it still constitutes a barrier that may, in some cases, hinder movement. Therefore, it is becoming a standard to use perfectly flat threshold solutions, i.e. those that, after installing the door, flush with the floor.. This solution guarantees the possibility of free movement for everyone with no exclusions, and significantly facilitates the transport of equipment.
In such cases, a perfect solution is a magnetic threshold. Doors equipped with such a system do not constitute any barrier, even in the most demanding cases, and at the same time guarantee perfect insulation.
OPERATION PRINCIPLES OF MAGNETIC PROGRAMS
The threshold owes its name to its sealing elements - magnetic seals that work across the entire width of the door. The seals are located in thoughtfully designed channels and cooperate with the magnetic tapes installed in the lower part of the door. When the door closes, the magnetic strips along the seals draw them towards each other, thus closing the gap between the leaf and the threshold. When the sash is opened, the seals fall into place back into the channels. It is a remarkably effective solution that works wherever truly barrier-free access is needed.
MAGNETIC PROGRAMS - FOR WHOM?
Hospitals, clinics, and nursing homes are perfect examples of places where barrier-free thresholds will be most useful. To be able to provide free passage for wheelchairs or hospital beds, it is necessary to use solutions flush with the floor.
Barrier-free solutions will also add convenience and a luxurious touch in hotels and restaurants - as an entrance door or at the entrance to the terrace. Their use will facilitate the movement of families with buggies. Additionally, it will enable the crew to transport goods on trolleys.
Barrier-free thresholds are also used more and more often in residential buildings. Comfort, safety, and aesthetics are the most important factors determining the choice of woodwork today. Doors with magnetic thresholds are often installed in houses and apartments, where they will be especially appreciated by the elderly, people with reduced mobility, and children - this completely barrier-free solution reduces the risk of tripping.
The individual nature of the magnetic thresholds and a wide range of variants allow them to be used in virtually any type of entrance or balcony door.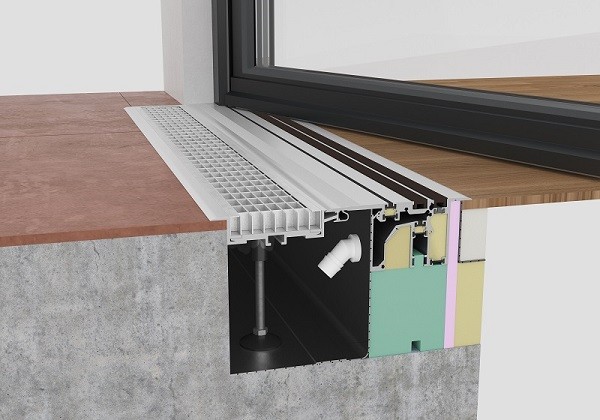 SPECIFICATIONS:
can be used in wooden, PVC or aluminium doors
delivery ready for assembly
use for entrance, balcony, and terrace doors
for single and double-leaf RU and R doors (movable mullion, fixed mullion and fixed transom)
Water-tightness class 9A according to EN 12208 (MFAT 10 PH)
Watertight up to class E750 at the movable mullion, without additional drainage (MFAT 20 PH)
Air permeability class 4 according to DIN EN 12207
Doors equipped with a magnetic threshold are characterized by a high Rw sound insulation coefficient:
with magnetic seals with double support Rw = 42 dB. (standard)
with magnetic seals with triple support Rw = 46 dB. (option)
No wear during operation,
20-year warranty on magnetic elements
Double magnetic seal in the completely flat threshold / Double magnetic seal in the triple insulated threshold
It eliminates level differences from 0 mm to 30 mm
For new build and renovation applications
Application: all PVC, aluminium, and wood systems - the threshold preparation is individual - we adjust the thresholds to the customer's profiles
standard threshold made in the PH version - for passive, energy-efficient houses
WHY MAGNETIC PROGRAMS
A completely barrier-free threshold - a unique solution for side-hung and tilt-and-turn doors
Due to the flat design, the corner is easy to clean
Aesthetic design - no kinks and a flat design mean not only no barriers to movement, but also luxurious, modern aesthetics
The possibility of using additional elements (a unique solution on the market, details in the attached catalogues)

transition profile - e.g. at connections with terraces
drainage profile - a perfectly matched solution enabling water drainage
doormat - an aesthetic finish that complements the modern look and functionality
Technical drawings of all variants of thresholds can be found in our catalogues.