ALUMASTER POLSKA redefines the term "barrier-free". Our tolerance for barrier-free construction is no longer 20 millimeters high thresholds.
For ALUMASTER, the barrier remains zero.
SLIDING DOORS FOR TERRACES, BALCONIES, WINTER GARDENS
Sliding doors are gaining popularity mainly due to the possibility of creating large glazing and high comfort of use. Unlike traditional swing doors, they do not take up valuable space in the room.
Thanks to our thresholds, the comfort of use can be even higher - thanks to the flat, barrier-free structure.
THRESHOLD COMPLIES WITH DIN18040 STANDARD
Our threshold does not have any sharp bends or angles, which makes it an excellent solution wherever you need complete freedom of movement - true barrierlessness.
The threshold has many variants. In the new construction version, after installation, it is almost flush with the floor. Thanks to its flat structure and cleverly designed location of the running rail, it makes no barrier even for the most demanding users. This solution will be appreciated by people on wheelchairs, using crutches or walkers, as well as by children and their parents. It will work perfectly in public buildings, hospitals, retirement homes, kindergartens, etc. Also in the case of restaurants, banquet and conference rooms, airports and hotels, where, in addition to increasing accessibility for people with mobility difficulties, they will not only add a luxurious touch, but also prove helpful to staff, making it easier to move delivery carts and other goods.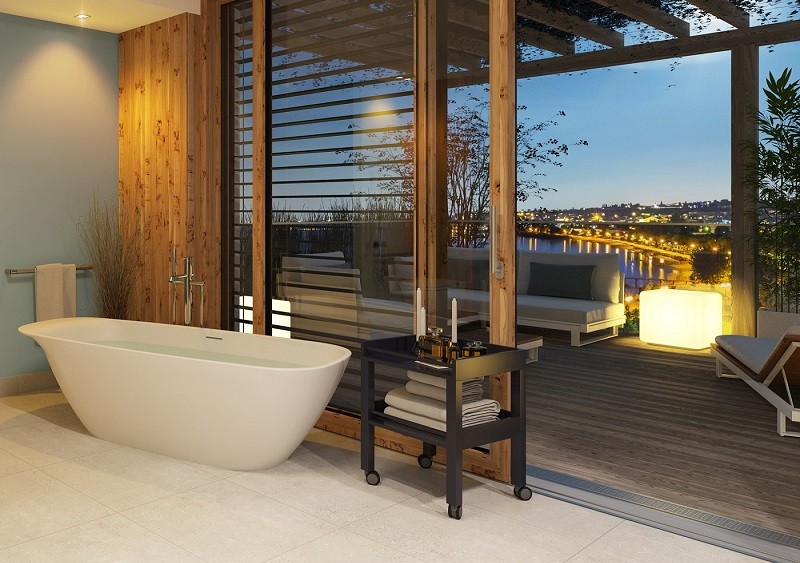 SPECIFICATIONS:
the threshold complies with DIN18040 standard
low thermal transmittance
PET under-threshold insulation with high load capacity for new construction
compatible with any type of HS hardware
Selection of the threshold type: with a substructure for new buildings or renovation thresholds.
Application: PVC systems and wood systems (Salamander, Gealan, Profine, Rehau, Veka, Schüco, Aluplast, Inoutic)
The results of the threshold tests on the example of HST using our threshold and Salamander Evolution Drive HST profiles:
class 1 operating force
water resistance class 9A
air permeability class 4
wind load class C2 / B23
Tests performed in the IFT Rosenheim laboratory.
BENEFITS FOR THE USER
A barrier-free threshold - a unique solution for HS
No wear during operation - thanks to the cleverly designed structure of both the threshold itself and the location of the running rail, proper operation does not affect the threshold wear. We can enjoy the proper functioning of the system for many years.
Aesthetic design - no kinks and a flat design mean not only no barriers to movement, but also modern, luxurious aesthetics.
HST thresholds, with their flat construction in combination with profiles, still guarantee full sealing.
Thanks to their PVC and aluminum construction, the HST thresholds are an ideal solution for passive houses.
Possibility of using additional elements:

transition profile - e.g. at connections with terraces,
drainage profile - a perfectly matched solution enabling water drainage,
doormat - an aesthetic finish that complements the modern look and functionality.
Technical drawings of all variants of thresholds can be found in our catalogues.